The future of renewable gas (biomethane) in Ireland
A carbon-neutral renewable gas made from farm and food waste through a process known as anaerobic digestion, biomethane can seamlessly replace natural gas on the network today and is fully compatible with existing appliances, technologies and vehicles. It can reduce emissions across key sectors of the economy including heating, industry, transport and power generation, while also supporting the decarbonisation of the agri-food sector.
Biomethane is well-recognised in response to the EU's commitment to becoming a highly energy-efficient, low carbon economy. We recognise biomethane as a renewable fuel which can significantly improve the sustainability of the national gas network and reduce dependency on imported natural gas.
Potential for renewable gas (biomethane) in Ireland
Biomethane is a key component of the EU Farm to Fork Strategy, which aims to reduce the environmental and climate impact of primary food production. The EU Green Deal highlighted biomethane as a vital tool in decarbonising European agriculture and energy systems, and the European Commission identified Ireland as having the highest potential per capita to produce the carbon neutral renewable gas.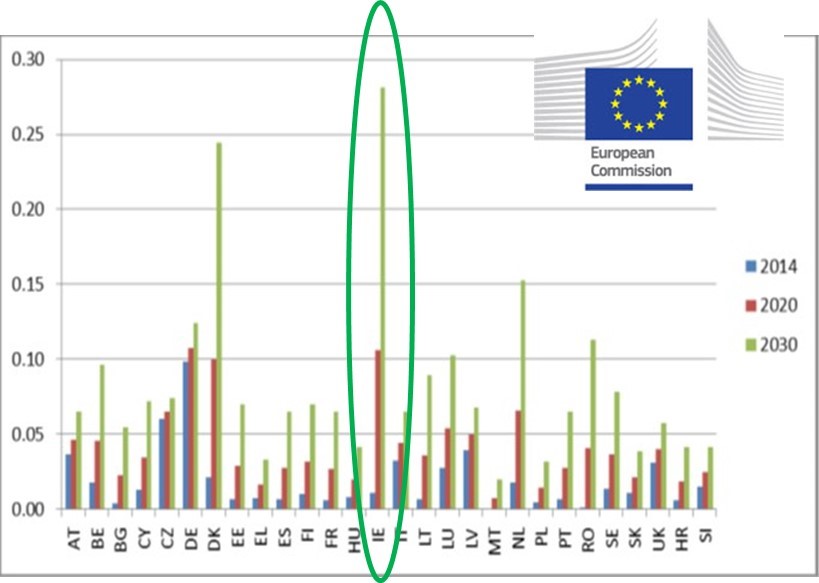 EU Commission report showing the potential of biomethane
The National Energy and Climate Plan (NECP) has proposed an initial target of 1.6 TWh/yr of biomethane production by 2030 (which equates to circa 3% of gas on the network). This target will be reviewed in 2023 and Gas Networks Ireland believes there is significant scope for biomethane production above the 1.6TWh/yr target.
To achieve this level of biomethane, we are focusing on supporting the stimulation of an indigenous biomethane industry and developing dedicated renewable gas injection points.
Supporting agriculture
Greenhouse gas emissions from agriculture represents over 35% of national emissions and are expected to increase further due to a projected increase in dairy cow numbers and proposals to increase food production and exports, as set out in Food Harvest 2020. Ireland needs to sustainably address emissions from agriculture, which could threaten the 'Origin Green' sustainability status of Ireland's food and drink production internationally.
The food and beverage production processes contribute a further 13% to national emissions and these industries are largely dependent on gas as their primary energy source. The initiative to establish biomethane production from agricultural and food waste represents a significant opportunity to decarbonise agriculture and the agri-food supply chain, while also providing the opportunity for the farmers to diversify and enhancing Irelands security of supply.
Decarbonising domestic heating
In June 2018, KPMG published a study on behalf of Gas Networks Ireland's parent company, Ervia, titled Decarbonising Domestic Heating in Ireland. The study highlighted how the advent of renewable gas has a profound impact on the challenge of decarbonising domestic heating. The study demonstrates how the displacement of natural gas supply with carbon neutral renewable gas can deliver complete decarbonisation of domestic heating for the one million households on or near the gas network at less than one third of the cost to complete a deep retrofit and install heat pump technology
Download the report
Renewable gas (biomethane) development in Europe
Across Europe, member states added 4.9 TWh of renewable gas in 2016 and this figure is set to increase significantly in the coming years. France have introduced a national strategy backed by legislation mandating 10% renewable gas by 2030 which is resulting in the installation of injection facilities at a rate of one every two weeks. Six European gas network operators have now set a target of 100% renewable gas consumption in their networks by 2050.
Why renewable gas (biomethane)?
For Ireland:
Assists national targets for emissions reduction in the agriculture, waste, heat, industry, transport and power generation sectors
Increased employment for rural communities, diversification of farm incomes and community cooperative opportunities
A key enabler to Foreign Direct Investment attraction and retention
Minimal additional hard infrastructure roll-out due to use of existing gas grid
Low cost choice to decarbonising Irelands heating and cooling sector – one third the cost of electrification
Increases Ireland's energy security, displacing dependence on imported fossil fuels
For the Customer: 
A renewable and sustainable source of energy
An existing route to market through the national gas network 
No change to end user equipment
Getting Connected?
The Commission for Regulation of Utilities (CRU) have recently published their decision on the proposed Renewable Gas Connection Policy. We are now tasked with implementing this decision and expect to have a formal connection process available to industry. For more details on this and any initial enquiries please contact renewablegas@gasnetworks.ie.