Social Sustainability Activities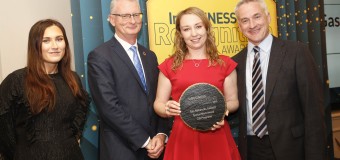 We focus our social sustainability activities around the communities we serve, our workplace and marketplace, and the environment we work hard to protect.
In 2019 we were the proud recipient of Chambers Ireland's InBusiness Special Merit Award for our Corporate Responsiblity Programme. Our schools Science, Technology, Engineering and Maths (STEM) programme 'Energize' was shortlisted for Community Initiative of the Year at the 2019 Utility Week Awards UK.
Our social sustainability activities were nominated for a number of awards in 2019 including:
Three Chambers Ireland Corporate Responsibility Awards;
Excellence in Community – Community Programme - Energize
Excellence in Workplace – Walking the Talk – A study of the impact of coaching while walking
Excellence in Environment – Biodiversity Enhancement Programme
CSR Award at the it@cork Tech Leaders Awards
Best use of Digital Marketing for the greater good (CSR) at the Cork Chamber of Commerce Digital Awards