Regulatory Affairs Overview
The role of Regulatory Affairs in Gas Networks Ireland includes:
Managing the day-to-day relationships with gas shippers and suppliers and provide support to them on the operation of the retail and wholesale gas markets;
Facilitating the ongoing development of the retail and wholesale gas markets in Ireland in compliance with the National and European regulatory frameworks;
Overseeing and ensuring representation of Gas Networks Ireland & GNI (UK) at European fora and institutions;
Monitoring compliance with Gas Networks Ireland's regulatory and licence obligations and advising management accordingly; and
Actively managing and seeking to prevent the theft of gas in the interests of safety.
Regulatory Affairs provides services to a wide range of stakeholders. Business delivery is divided into two key areas: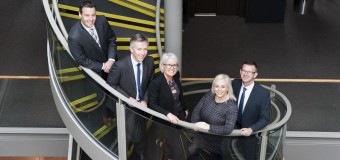 Gas Networks Ireland - European Affairs Team. (L-R) Con O'Donnell, Regulatory Framework Manager, Kieran O'Sullivan, EU Affairs Senior Analyst, Mary O'Mahony, European Innovation & Policy Analyst, Gráinne Greehy, European Affairs Manager and Stephen O'Riordan, EU Technical & Regulatory Analyst
Regulatory Framework
- European Affairs
The European Affairs team works with a wide range of stakeholders, including EU Associations, Regulators, Transmission System Operators (TSOs), Distribution System Operators (DSOs), Government Departments, Policy Makers and within the Gas Networks Ireland business on the following:
Advocate for Policy change
Ensure Gas Networks Ireland has developed a clear standpoint on EU policy which aligns with and supports the company strategy.
Monitor and input into EU Associations and their working groups.
Deliver on strategy and strengthen influence
Articulate Gas Networks Ireland's strategic positions at EU level and National level.
Input into National/EU consultations which impact policy development.
Increase influence/credibility with key EU stakeholders e.g. ENTSOG/ GIE/ Eurogas etc.
Proactively monitor and input into key studies and the gas legislative process.
Ensure compliance
Influence the direction of and deliver full compliance with National and EU legislation.
Useful links:
Contact us:
E: EuropeanAffairs@gasnetworks.ie
T: +353 21 453 4467
Regulatory Framework
- Regulatory Affairs
Gas Networks Ireland's Regulatory Affairs team leads on the interaction with Regulatory Authorities and Government Departments on matters including Regulatory Compliance and Gas Networks Ireland's Brexit-readiness.
Regulatory Affairs areas of responsibility include:
Lead Gas Networks Ireland's interaction with Regulatory Authorities in the Republic of Ireland (RoI), Northern Ireland (NI) and GB.
Manage all regulatory contracts e.g. Interconnection and Transportations Agreements.
Respond to all relevant consultations in conjunction with other Gas Networks Ireland departments.
Licence Compliance
Ensure compliance with all Licence obligations with ownership of specific conditions assigned to relevant personnel in Gas Networks Ireland.
Identify and address all licence compliance issues and lead engagement with Regulatory Authorities on any changes to these Licences.
Brexit
Liaise with key stakeholders in relation to Brexit, most notably neighbouring Transmission System Operators (TSOs), Government Departments and Regulators and gas shippers.
Ensure that Gas Networks Ireland and GNI (UK) are Brexit ready.
Useful Links:
Contact us:
E: compliance@gasnetworks.ie
E: Aine.Spillane@gasnetworks.ie
T: +353 21 453 4229
 
Regulatory Framework
- Wholesale Market
The Wholesale Market Team is responsible for the development and operation of the rules governing Gas Transportation in Ireland.
Wholesale Market areas of responsibility include:
The Code of Operations – implementing changes required by Irish market participants as well as EU and National legislative requirements.
The Code Modification Forum (the wholesale industry forum comprising Shippers, Producers, the CRU and other parties).
Gas Networks Ireland's Data Transparency Portal (which provides near real time data on physical and commercial flows in our network).

Being advocates for Shippers in all industry fora as well as internally in Gas Networks Ireland.
Useful Links:
Contact us:
E: marketdevelopment@gasnetworks.ie
T: +353 21 453 4412