Northern Ireland Energy Transition
In December 2021, the Department for the Economy (DfE) published the 'Energy Strategy – Path to Net Zero Energy'   The Northern Ireland Energy Strategy has ambitious plans for the development of renewable gases i.e., biomethane and hydrogen on the gas networks in NI.  A detailed action plan followed in January 2023, which outlines a roadmap to 2030 aiming to deliver a 56% reduction of energy-related emissions, on the pathway to deliver the 2050 vision of net zero carbon and affordable energy.
GNI (UK), alongside the four other Gas Network Operators in Northern Ireland, firmus energy, Mutual Energy, SGN Natural Gas and Phoenix Natural Gas is actively supporting the delivery of certain associated actions, for example, delivering a regulatory framework for biomethane (2023) and for hydrogen (2025).
In October, 2022, GNI (UK) recruited a Northern Ireland Energy Transition Manager, a role which monitors policy developments on behalf of GNI (UK) as the NI energy strategy is delivered, working collaboratively with the NI Gas Network Operators on key topics such as biomethane; hydrogen; gas safety; operations and R&D, as they relate to Northern Ireland. The role also covers liaison with key NI stakeholders, including the Department for the Economy, the Utility Regulator, and the NI Gas Network Operators Energy Transition Group, to coordinate the delivery of gas transition-related activities.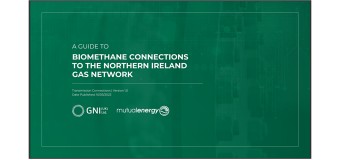 Biomethane connections to the NI gas network - A guide for owners and developers
GNI (UK) is committed to supporting Northern Ireland's transition to a net zero energy system. One of our key roles is to provide connections onto the network for biomethane producers and we can facilitate the injection of the renewable gas biomethane into the gas network.
Getting a connection to inject biomethane onto our networks requires a number of steps to ensure a safe and secure connection.
This Guide to Biomethane Connections to the Northern Ireland Gas Network has been developed collaboratively by Northern Ireland's two Transmission System Operators (TSOs); GNI (UK) Limited and Mutual Energy Limited. Outlining the steps producers must take to connect and inject biomethane into the gas network, it is intended to help you, as the owner or developer of a biomethane production facility, to connect your production facility to the gas transmission network in Northern Ireland.