Irish biomethane could replace a quarter of natural gas on the nation's network
New report finds biomethane could reduce carbon emissions by almost 4M tonnes a year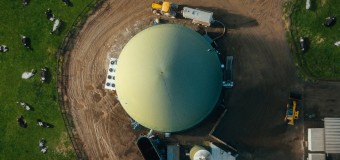 Ireland has the potential for a biomethane industry, which would replace more than a quarter of natural gas on the network, create significant new agri- income streams and reduce Ireland's total emissions by almost 4 million tonnes per year - 6.5% of Ireland's total emissions1.
These are the main findings from the Biomethane Energy Report2, which will be launched by Gas Networks Ireland, the operator of Ireland's state-owned gas network, at the Irish Renewable Gas Conference in Dublin today.
Structurally identical to natural gas, biomethane is a carbon neutral renewable gas derived from organic sources such as landfill, food waste and agricultural waste. Biomethane is fully compatible with the existing national gas network and existing appliances, technologies and vehicles. It seamlessly replaces natural gas to reduce emissions in heating, industry, transport and power generation. 
The report is based on findings from responses to a market testing Request for Information (RFI) issued by Gas Networks Ireland to current and future biomethane producers in October 2022. The report identifies 176 projects throughout Ireland that have the overall potential to produce 14.8 terawatt-hours (TWh) of biomethane per annum, amounting to 26% of Ireland's current gas demand. The top five counties in terms of prospective biomethane production volumes were Cavan, Kildare, Limerick, Cork and Monaghan.
Ireland's biomethane potential as outlined in this report, both in terms of potential project numbers (176) and in terms of volume of biomethane production (14.8 TWh) demonstrate how achievable the Government's target to produce up to 5.7 TWh of biomethane by 2030 is.  Gas Networks Ireland is confident that, with the right structures and policies put in place, the Government's target can be achieved and possibly exceeded.
Gas Networks Ireland's Chief Executive Officer Cathal Marley said: 
"The findings published in our report send out a strong signal that there is both interest in and demand for, biomethane production in Ireland.
The appetite is there to produce enough biomethane to replace 26% of the natural gas currently consumed in Ireland. This is more than two and a half times greater than the State's current biomethane 2030 CAP Target (5.7 TWh), and it is also more energy than will be procured from Ireland's first offshore wind auction, ORESS-1, which took place earlier this year.
Ireland has a real opportunity to develop a biomethane industry at scale. This will be a significant step on the road to decarbonising Ireland's energy system as well as the overall economy and will also offer numerous benefits for the agricultural economy, through the decarbonisation of the agri-food sector.
Biomethane will become a key indigenous energy resource in the coming years and a source of major investment in the rural economy.
However, a new biomethane industry in Ireland, as with any emerging sector, will face challenges that must be overcome. While the first Irish policy support for biomethane is in development, it is essential that it provides a framework that delivers long-term price certainty for biomethane producers and ensures that the planning and permitting process is aligned to the specific needs of the sector."
Biomethane is a very flexible gas that contributes to circular economies, as it can be made from farm and food waste. Its by-products include a digestate that can be used as environmentally friendly and highly effective fertiliser; and carbon dioxide, which can be used by other industries in for example the production of carbonated drinks. In Denmark – which has a population and agricultural industry similar in size to Ireland – biomethane now makes up 34% of gas on the national grid, just 10 years after the first large plant was built there.
The next significant step of Gas Network Ireland's biomethane journey will be the development of a contract and tender process for the procurement of biomethane for its own use. This is aimed at replacing up to 50% of the gas we currently use in Ireland to operate the system.  
In 2022, Ireland's gas network transported 57.1 TWh of energy to Irish industries and households annually.  This is almost twice the energy transported by the electricity grid at 32TWh last year. If Ireland is to reach its climate action goals, the gas network needs to be decarbonised, and biomethane will play a significant role in this process.
Gas Networks Ireland is working to replace natural gas with renewable gases, such as biomethane today, and hydrogen in the future, on Ireland's existing gas infrastructure, which will help to substantially reduce Ireland's carbon emissions while ensuring a secure energy supply, in the least disruptive most cost-effective manner.
1 6.5% of Ireland's total 60.76 million tonnes of CO2 equivalent (Mt CO2eq) emissions in 2022 (EPA, June 2023).