Befriend bees and celebrate biodiversity on World Environment Day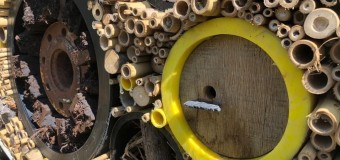 "Befriend bees and celebrate biodiversity" is the message from Gas Networks Ireland's Sustainability Manager, Anne Moore, on World Environment Day.
June 5th 2020 is the United Nations' World Environment Day, a day to increase awareness and encourage action for the protection of the environment. The theme for this year's World Environment Day is "Celebrate Biodiversity".
Gas Networks Ireland is a hive of activity when it comes to protecting biodiversity. As a business supporter of the All-Ireland Pollinator Plan, the organisation has created a network of pollinator-friendly habitats nationwide, and is helping to conserve bees by growing the wildflowers and hedgerows they depend on, including red clover, which is not only good for bees and the soil, but can also be used for the production of renewable gas.
Ms. Moore said there are many ways households around Ireland can embrace this important environmental initiative and keep the bees buzzing.
"We are spending a lot more time in our gardens at the moment, so now more than ever we want to encourage people to be more aware of the importance of protecting their local biodiversity. A simple way to do this is by planting bee-friendly plants or even creating a window box bee garden," Ms. Moore said.
Winners of the "Working Together for Biodiversity" award for its Biodiversity Enhancement Programme, Gas Networks Ireland has held a number workshops in local primary schools and, together with Cork City Council, opened a "bug hotel" in Shalom Park beside the company's Cork office last year.
Gas Networks Ireland is committed to the 'Low Carbon Pledge' to reduce its own greenhouse gas emissions by 2030 and is one of the founding members of the Irish Business and Biodiversity Platform. The network operator is also a member of Business in the Community Ireland's Leaders Group on Sustainability and co-chair of the Low Carbon Economy Group.