Shanahan and Lee win Wednesday's Cork 5km race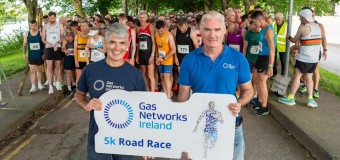 Niall Shanahan ran away with an impressive win in the Gas Networks Ireland 5km race in Cork on Wednesday July 19th.
Niall was first past the post in a time of 14mins 36 secs, 23 seconds before second placed Denis Hegarty, who came in 15 seconds ahead of Shane Collins in third. 
Lizzie Lee took top honours in the Women's division with a time of 16mins 41 secs, with Hannah Steeds and Carol Finn rounding out the podium in 16mins 49 secs and 17mins 17 secs respectively.
"It was a highly competitive race across all divisions," Gas Networks Ireland's Director of Business Services, Ian O'Flynn, said.
"As courses go, there are no hills so it's flat and fast, making it a popular race on the Cork circuit. We would like to thank all the runners and volunteers for their energy and commitment which makes the event such a success and we look forward to seeing you all again next year."
A record 720 runners completed the popular course resulting in the biggest turnout this race has seen to date. Starting near Lee Rowing Club with runners passing Centre Park Road, Monahan Road, the Marina, Pairc Uí Chaoimh and ending off near the Cork Boat Club.
Part of the Business Houses Athletic Association (BHAA) series, Gas Networks Ireland has sponsored the annual event since 2012, returning for its 10th year since the pandemic.
Headquartered in Cork, Gas Networks Ireland is committed to supporting the communities in which it operates through a number of local sponsorships and partnerships.