Jedward confirm that they are not breaking up, but urge you not to risk it all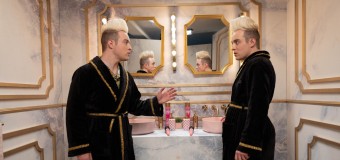 Despite Edward Grimes, one half of Jedward, hinting on the duo's social media channels that they might be breaking up (#Jexit), fans need not worry as it is all part of a new public safety campaign to highlight the importance of using a Registered Gas Installer (RGI).
The campaign aims to highlight the necessity of using an RGI for any gas works in your home. It is run by Gas Networks Ireland on behalf of the Commission for Regulation of Utilities (CRU).
The premise of the new campaign is simple: you should never use a handyman or anyone who isn't an RGI to carry out any gas work, including installation, servicing, maintenance or removal of any gas or LPG appliance or pipework.  A nationwide list of Registered Gas Installers can be found at www.rgi.ie.
The national multi-media campaign launches today and replaces the very successful campaign fronted by singer Daniel O'Donnell, which ran for seven years and significantly increased awareness of the illegality and dangers of not using an RGI for domestic gas works. 
Commenting on the success of the previous campaign, Gas Networks Ireland's Network Safety Manager, Owen Wilson said:
"Not only did the last campaign effectively communicate how important it is to use a Registered Gas Installer, it also increased the awareness of using an RGI from 57% to 78%1, while Daniel and his "superfan" Mary brought a smile to viewers' faces."
Speaking about how proud they are to follow in Daniel O'Donnell's footsteps, Jedward said:
"We hope you enjoy the campaign guys and that it helps with safety Jeducation.  Remember…please don't risk it all … for installation, service, repair or removal of any gas or LPG appliance or pipework in your home, always use a Registered Gas Installer.
And don't worry, we're not breaking up.  #BrosForLife."
The campaign involves comedic TV, radio, digital and social ads, featuring the much-loved duo almost splitting up when John suggests getting a handyman to fix their broken gas boiler. However Edward knows what they really need to get the hot water working again is a Registered Gas Installer.
Realising that maybe they are just too different after all, Edward dramatically departs their shared home, and leaves viewers wondering if this is the end of Jedward.
Jedward teasingly added:
"Everyone knows we are inseparable. To think that we could split up over not using a Registered Gas Installer really highlights how much of a deal breaker it is, and should be."
Director of Energy Safety, Loretta Joyce at the CRU, the regulator responsible for regulating the activities of gas installers with respect to safety said:
"This campaign is designed to grab the attention of the public.  It helps reinforce the message that using an RGI gives peace of mind that the work is done by a competent and experienced professional, who is also fully insured. 
It is illegal for anyone who is not an RGI to perform works on domestic gas, LPG appliances and pipework. RGIs are insured, carry ID cards and provide a conformance certificate for any work done.  A conformance certificate means the gas work meets national safety standards. So, as the campaign says; we urge you to not risk it all and use an RGI."
Gas Networks Ireland's Network Safety Manager, Owen Wilson added:
"Our priority at Gas Networks Ireland is safety, and we urge you to put your safety first.  If you are having a gas or LPG appliance or pipework installed, serviced, repaired, replaced or removed, always use a Registered Gas Installer.  Although it can be tempting to use someone who is not a registered installer, the dangers can be very real and can put the safety of you and your household at risk."
Registered Gas Installers can be sourced at www.rgi.ie
Gas Networks Ireland also promotes public safety through the gas escapes emergency service, Dial Before You Dig, meter tampering and carbon monoxide awareness campaigns.
1Behaviour and Attitudes quantitative research October 2022 (Independent research commissioned by Gas Networks Ireland)