Gas Network Ireland's Apprenticeship Programme 2022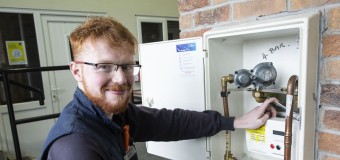 Please note that the Application process is now closed for the 2022 Programme. We will update this page with any future programmes when relevant.
The Gas Networks Ireland Apprenticeship will launch in March 2022. Gas Networks Ireland are recruiting to hire 14 apprentices to commence training in October 2022.
The Apprenticeship Programmes will include the following crafts:
Mechanical Automation and Maintenance Fitting
Electrical Instrumentation
Plumbing
We will partner with SOLAS over the four-year programme ensuring our new apprentices are trained to the highest standard. The training will include on-site training with Gas Networks Ireland Technical training coaches where the apprentice will get practical experience on the gas network. This specialised training will take place in our Technical Training Centre. The apprentices will also attend formal classes in the Educational Training Boards, Metac facility and in the appropriate Institutes of Technology.  The apprentices will attend 'Understanding the Business' modules to ensure they have an appreciation of the entire Gas Networks Ireland business and will partake in personal development training. 
On completion of the Apprenticeship Programme, successful trainees will be awarded a Level 6 Advanced Certificate Craft. This is recognised nationally and internationally as the requirement for craftsperson status.
Requirements
Leaving Certificate or equivalent - Grade D in 5 subjects
Candidates must be over 18 on the 1st June 2022 
Candidates sitting the 2022 exams may also apply, and if successful, a place may be offered subject to the required results being achieved.
Successful candidates will be required to pass a colour vision test and medical assessment.
Closing Date for Applications Monday 25th April 2022