Case Study:
Natural gas communal heating system
Cairn Homes PLC achieve NZEB standard in new apartments using natural gas
Supporting homebuilders achieve NZEB standards with natural gas
Part L (NZEB) of building regulations require new residential buildings to have a very high energy performance. The low amount of energy (nearly zero) that these buildings require should, to a significant extent, come from renewable sources produced on-site or nearby.
Cairn Homes PLC, one of Ireland's largest homebuilders, is powering and heating their development of 342 apartments through the installation of a natural gas communal heating system. This high-density development meets Part L (NZEB) 2019 of the Building Regulations using an innovative Combined Heat and Power (CHP) heating system solution in combination with solar photovoltaic (PV) panels
If you wish to explore how you can achieve NZEB standards for your planned development and provide your customers all the benefits of natural gas, please contact us today for a free consultation
Book a free consultation
Committed to sustainable development
The Griffith Wood development is comprised of six apartment blocks ranging in height from four to seven stories, totalling 342 apartments, constructed over a common basement. The development has a gross floor area of 36,556m2 and is served by a centralised communal heating system, led and supported by gas boilers and solar photovoltaic (PV) panels respectively.
For years Cairn has been committed to building high quality, residential developments throughout Ireland. With Griffith Wood, Cairn's objective was to deliver a sustainable development that maximised the use of available space.
By utilising otherwise redundant roof space, a solar PV array has been installed allowing large amounts of renewable electricity to be generated on the rooftop. This reduces the need for large plant room areas and maximises space for the apartments.
Decarbonising with a CHP communal heating system
With the increasing demand for housing, high density apartment block developments are providing the most suitable solution for homebuilders in urban areas. With every new development comes the requirement to provide a robust, energy efficient heating and power solution that meets all of today's building regulation requirements. Any solution must also offer security of supply and the flexibility for future decarbonisation.
A natural gas CHP system offers this flexibility. In addition to being compatible with renewable gases, such as biomethane and hydrogen, it can also be linked into a national district heating system, thereby providing adaptability for future decarbonisation.
Further potential benefits will be the opportunity for the property management company to earn additional revenue from selling excess electricity generated onsite from the solar PV panels, back to the national grid, under the governments proposed micro-generation support scheme.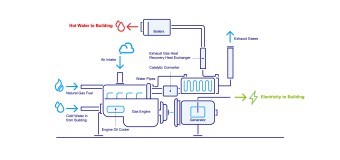 Combined heat and power
Also known as co-generation, CHP is the simultaneous production of electricity and heat usually in the form of hot water or steam from a primary fuel such as natural gas. In Griffith Wood, electricity is generated on-site by using natural gas to drive an alternator connected to the heating system's engine.
The heat generated by the gas engine and exhaust is harnessed to provide heating and hot water to the building, while the electrical energy is used to power building systems such as lifts, pumps and car park lighting.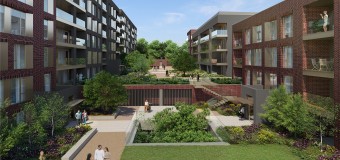 CHP and DEAP
The proportions of heat from CHP and conventional boilers, and the heat and electrical efficiencies of the CHP for the calculation of CO2 emissions, are based on its design specification. Heat efficiency is defined, as the annual useful heat supplied from a CHP scheme divided by the total annual fuel input (based on gross calorific value) and the electrical power efficiency is the total annual power output divided by the total annual fuel input.
Appendix C and N of the DEAP manual detail how the DEAP software caters for CHP installations in a communal heating system. An area weighted calculation can be performed across the entire apartment development to assess how much renewable energy is to be assigned to each apartment within the DEAP software. Any shortfall in renewable energy is compensated by the electrical power generated by the solar PV panels.
"Several options were considered for the mechanical system but a CHP led communal system was by far the best choice"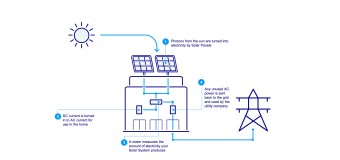 Solar photovoltaic (PV) panels
Solar PV panels contribute to the building's overall renewable energy contribution by generating electrical energy that can be used to help power building systems, such as pumps and communal lighting, alongside the electrical power generated from the CHP.
There are 103 high efficiency 300wp PV panels, situated on roof mounted installations and spread across the six apartment blocks.
Ready for renewable gas
Ireland's gas network is a vital national asset that generates over 50% of Ireland's electricity. Today, more than 680,000 Irish homes rely on the gas network to provide safe, reliable and flexible energy to meet their heating, cooking and power needs. By gradually replacing natural gas with renewable, carbon neutral and ultimately zero carbon gases, such as biomethane and hydrogen, these same homes and more will be powered by increasingly cleaner energy.
Biomethane, which began flowing on the network in 2019, is the first step on this journey. Produced from agricultural and food waste, this renewable gas is structurally identical to natural gas and can be used in exactly the same way through the existing infrastructure, boilers and appliances, meaning homeowners will transition to this carbon neutral energy and play their part in progressing Ireland towards a cleaner energy future, without changing a thing.
Cairn Homes case study - PDF
Book a free consultation
If you wish to explore how you can achieve NZEB standards for your planned development and provide your customers all the benefits of natural gas, please contact us today for a free consultation.