Benefits of natural gas
Affordable - It is one of the most cost-effective fuels on the market.
Cleaner - It produces 20% less CO2 than oil making it a more sustainable choice for the environment.*
Convenient - It can't be matched for speed and reliability, heating your home significantly faster than electricity.
Reliable - A constant supply is piped directly to your home, 24 hours a day, 365 days a year, so you don't need to spend time placing orders or relighting your boiler when the oil runs out.
Versatile - It's the most versatile of all fuels and compatible with a large range of modern appliances including fires, cookers and tumble dryers, along with providing hot water and heating.
Quick installation - Typically boiler replacement work will be completed by a registered gas installer within one working day.
*SEAI 2020
Check if your home can connect to gas
Improve your home's Building Energy Rating (BER)
The BER of your home indicates how energy efficient it is. Read our case study to learn what three simple steps you can take to save on your energy bills and reduce the carbon emissions of your home.
Improve your BER - Case study
The process of switching your heating system from oil to natural gas
If your address can connect to natural gas and you have paid to connect, you can then have a Registered Gas Installer to complete the agreed internal work on your house. The work will follow the process below.
Step 1

Heating System - External
Disconnect your existing heating system from the oil boiler
Disconnect the fuel supply (heating oil).
Step 2

Equipment Removal
Oil boiler is taken out allowing space for gas boiler to be connected.
Oil tank also removed safely.
Useful links
Step 3

Select a suitable location for your new gas boiler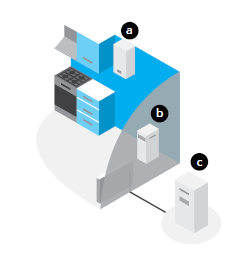 a. Internal
Locate gas boiler in kitchen or utility room with flue to outside.
b. External
Locate gas boiler outdoors in custom weatherproof casing. This can be wall mounted or within a free-standing enclosure.
c. Garage or shed
Replace outdoor boiler in garage or shed location.
Useful links:
Experience it for yourself
Take advantage of all natural gas has to offer.